Security and privacy
The ambition is to facilitate the worldwide uptake of "European Technology" and infrastructure with the goal to earn international reputation for secure, safe, dependable and trustable hardware, software and IoT networks for edge AI. Supporting other technology lines and demonstrations within DAIS project, we envision ensure security, privacy and safety by revisiting the cyber- or cyber-physical security in the last mile of IoT edge networks. The ambition is to ensure secure and reliable communications for resource constrained IoT devices using different radio access technologies, e.g. 5G, LTE-M, NB-IoT, BTE, TSN, NFC, LPWAN, WiFi, etc., preserve data privacy and keep the stored/aggregated data still useful for edge/cloud AI/ML analytics. To this end, we adopt a secure-, private- and safe-by-design approach to develop different security technologies to reinforce security in edge computing system.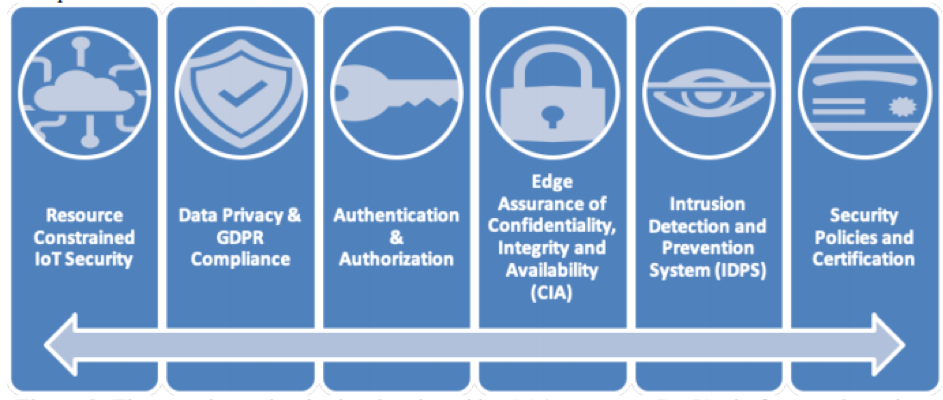 Objectives:
enhance security in edge computing systems by developing security schemes for communications between resource constrained IoT devices and edge/fog/cloud nodes,
preserve data privacy and protect sensitive data against untrusted third-party AI/ML analytics (e.g. SaaS or IaaS) while ensuring data usefulness for edge/fog data processing and/or data aggregation.
3) protect data from unauthorized access/updates during the whole lifecycle (e.g. collection, communication, storage, and processing).
4) improve attack detection performance in edge computing network using AI/ML technologies.
5) increase network resilience by autonomously counteracting to detected attacks before triggering larger consequences.
Partners:
PDM (Leader), SIRRIS, SENT, Sestek, Vestel, ITAV, GS, BEV, KT, TST, UCAN, GD, ESC, IMA, NXPNL, NXPGE, SENS, MDH, RISE, UzL and Step